• TLC Designer • Bot Besties Digital Stamps • celebrate frame die • DT - Rosemary Bridges • Magical Delight Paper • Mix & Match Hop • Snow Bot Friends Clear Stamp Set
Happy Thursday friends! Today, the Design Team is having a Mix & Match Instagram Hop to give you inspiration on how the TLC stamps, dies, and papers can be mixed together. Head over to the
TLC Designs Instagram Page
for all the details and Hop list. I've also included some information below.
---
• TLC Designer • #digitalpaper • #DigitalStamps • #dtkinjal • #EZSketchChallenge • #KraftyandSweetPaperPack • #TLCDesignsChallenge • celebrate frame die • Chilly Fun Sprinkles • Coloring • Digital Illustration • Digital paper • Digital Stamp • DT - Kinjal • DT-Kinjal Trivedi • EZ Cards • Kraft and Sweet Digital Papers • Kraft Card Stock • Krafty & Sweet Slimline Digital Paper • Sketch-EZ • Sketch-EZ Challege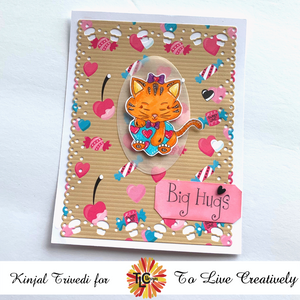 Hello there. TLC Designs has a fun challenge every month. It offers a digital image for a discounted price that you can download and play with to enter the challenge. Winners get a GC to the store at the end of the month! It's such a fun way to participate and see different versions of the same digital stamp. To get your creative juices flowing, here is the inspiration for this month's EZ Sketch Challenge #117. For this card, I used an additional cupcake digital paper from the Krafty & Sweet Slimline Digital Paper and used the Celebrate Frame Die to add...
---
• TLC Designer • Celebrate Frame Die • Critters • Forest Pals • Ink Blending • Niccole • One Layer Card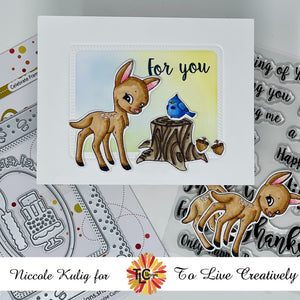 Happy Thursday everyone.  Today I am sharing a card I made using the Forest Pals Digital Stamp Set, the Celebrate Frame Die Set, and the Must Have Sentiment Stamp Set. I wanted to show how you can stretch your supplies. I used the dotted rectangle from the Celebrate Frame Die Set, but instead of die cutting it I embossed it into my card front. Look at how deep the die embossed into the card front ... I love this "trick" so much. So much detail without anything extra. From here I did some ink blending to emulate the grass, sky and sun.  You do...
---
• TLC Designer • #AlicornHappiness • #Design Team • #digitalpaper • #HappyBloomDay&Clouds • #InteractiveCards • #ScallopedRectangleGarden • #SlimlineCard • #SlimlineMultiSlider • #Stencil • Alicorn Happiness Stamp Set • Celebrate • celebrate frame die • Coloring • copic coloring • DT - Steph Ackerman • Happy Bloom Day & Clouds Stencil • Scalloped Rectangle Garden Dies • Slimline Multi-Slider Die
See how DT-Steph Ackerman creates an interactive card using assorted stamps and dies from TLC Designs.
---
• Shanna Slater • 3 Products 3 Ways • Celebrate • celebrate frame die • celebrate sentiments • Celebrate Sweetly Stencil • DT-Shanna Slater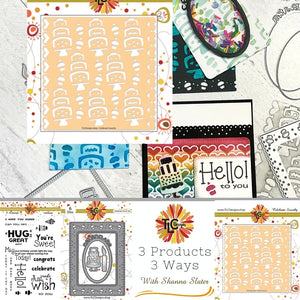 Hello and Welcome!  This is Shanna today with another 3 Products 3 Ways on the third!   This month is all about: Celebrate Frame Dies Celebrate Polymer Sentiment Stamps Celebrate Sweetly Stencil I had a lot of fun (as usual!) creating this trio of projects--so let's get started! For my first card I created a mini slimline that used the Celebrate Sweetly Stencil across the bottom 2/3 of the card panel.  I masked at an angle the top of the panel while I stenciled in blue, purple, and pink inks---then after I lifted the stencil I went back over the...