• TLC Designer • #SceneBuilding • #SlimlineCard • Coloring • Digital Stamp • DT Shannon • Parlor Stamp Set • Pizzaria Digital Stamps • Scene Card • slimline • Slimline Card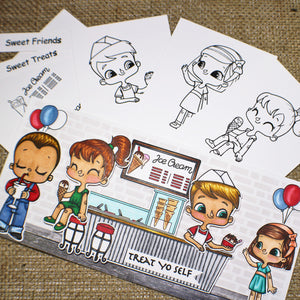 Hello my crafty friends.  My name is Shannon with cards by Shannon Lee.  I am so honored to have the opportunity to be a new member of the design team here on the TLC Designs blog. I know now that TLC Designs has been around for a few years, but I just came across them a few months ago.  I instantly fell in love with Tammy Louise's whimsy designs.  Not to mention the reasonable prices of the products.  I can't think of another company that has her caliber of products for the prices TLC Designs offers their product for. They...
---
• TLC Designer • #DigitalStamps • #MustHaveSentiments • #SceneBuilding • #SlimlineCard • Seahorse Samm • Seahorse Samm digital stamp set • Shells • slimline • Slimline Card • Underwater
Sea horse Samm Digi Stamps
---
• TLC Designer • #AztecSunshineDie • #LandandSeaDies • #SceneBuilding • #Stencil • Aztec Sunshine Die Set • DT - Steph Ackerman • Holiday Fun • Land and Seas Die • Snowy and Evergreen Stencil
DT-Steph Ackerman shares a winter themed card today.
---
• Shanna Slater • #DigitalStamps • #DoubleDialDie2 • #Halloween • #InteractiveCards • #JackOGnome • #SceneBuilding • #Stencil • 3 Products 3 Ways • DT-Shanna Slater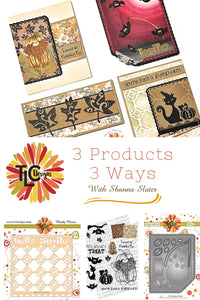 Hello and welcome!! This is Shanna here today with the October 3 products 3 wats on the 3rd of the month! This month I am featuring 3 (well actually FOUR) projects using: Clearly Classic stencil Jack O' Gnome digital stamp set  Double Dial 2 interactive dies   I created three projects, but couldn't stop there! I ended up with four projects and could have kept going!  Let's get started   For my first projects I used the bats from the Jack digi stamps and made a traditional Double Dial 2 project that lets the bats fly around the spooky...
---
• TLC Designer • #DaisyFrameDie • #Design Team • #DigitalStamps • #dryembossing • #dtkinjal • #PoeticPixie • #SceneBuilding • #splashofheartsandlandstencil • #Stencil • DT - Kinjal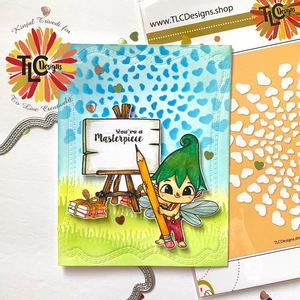 Hi and welcome to the TLC Designs blog. I am Kinjal, from Mind My Paper, and super excited to share this card. I am sharing this fun card with the background made from just one stencil. Yes, you got that right! I am in awe of the TLC Designs stencils, as they have multiple edges along with the main part. So you not only get to use the stencil for the main image but the edges can be used to make many more additional elements. Here is how I made the background: - I used this Splash of Hearts and Land stencil....