• TLC Designer • #DaisyFrameDie • #KraftyandSweetPaperPack • #TiptoeFairyDance • cheryl walker • Daisy Frame Die • DT- Cheryl Walker • Krafty & Sweet Slimline Digital Paper • Tiptoe Fairy Dance • Tiptoe Fairy Dancy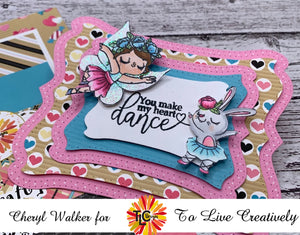 Hello crafty friends and Happy Tuesday to you all! I do hope you all had a very Merry Christmas! Today's card I'm sharing with you was designed using the darling Tiptoe Fairy Dance Stamp set. Just love this darling set, so many cute images in it. So for todays card I chose to use 2 of them. To start with I chose the die set called Daisy Frame Die, and cut out all my layers using pink card stock and the beautiful Krafty & Sweet Design paper. Next I stampe my sentiment on the white card stock. My images were...
---
• TLC Designer • #AztecSunshineDie • #CelebrateSentiments • #LandandSeaDies • #ScallopedRectangleGarden • #TiptoeFairyDance • #YouAreMySunshinePaperPack • Aztec Sunshine Circle Die • Aztec Sunshine Die Set • Aztec Sunshine Dies • Celebrate • celebrate sentiments • Celebrate Stamp Set • Coloring • copic coloring • DT - Steph Ackerman • Land and Sea Dies • Land and Seas Die • Scallop Rectangle Garden Die • Scalloped Rectangle Garden Dies • Tiptoe Fairy Dance • Tiptoe Fairy Dancy • You Are My Sunshine Paper Pack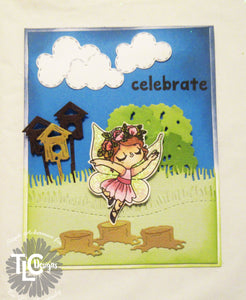 DT - Steph has created a sweet celebratory card using the Tip Toe Fairy stamp with assorted dies
---
• TLC Designer • #DeliciousPaperPack • #Design Team • #digitalpaper • #DigitalStamps • #dtkinjal • #InkBlending • #InteractiveCards • #SliderCard • #SlimlineCard • #SlimlineMultiSlider • #TiptoeFairyDance • Cards For Kids • Delicious Designer Paper Pack • Delicious Digital Paper • Digital Illustration • Digital paper • Digital Stamp • DT - Kinjal • DT-Kinjal Trivedi • Festive Friends Digital • Ink Blending • Interactive Card • Interactive Die • Interactive Dies • Pattern Paper • slimline • Slimline Card • Slimline Multi-Slider Die • Tiptoe Fairy Dance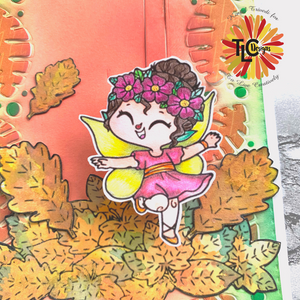 Hello! This is DT Kinjal from Mind My Paper and I will be sharing this Tutu cute Fairy Slider card! I die cut this Slimline Multi-Slider Die in plain green and textured orange cardstock. Taking the positive pieces, I lined up the orange leaves on white cardstock and glued them down. I also did the same with the green dots. Once everything was glued, I ran the die through my Sizzix with a silicone mat to get a dry embossed look over the glued parts. Next, I used DO Pine Needles and Twisted Citron with Fired Brick and Candied Apple...
---
• TLC Designer • DT Merja Sivonen • See you in the Center dies • Something Bloomed Papers • Tiptoe Fairy Dance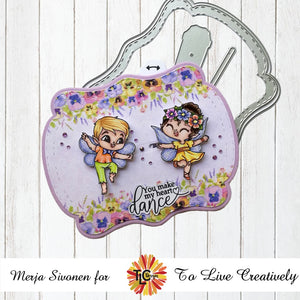 Fairies are dancing on this interactive card made by Merja.
---
• TLC Designer • Daisy Frame Die • Fairy Land Slimline paper • Tangii Crain • Tiptoe Fairy Dance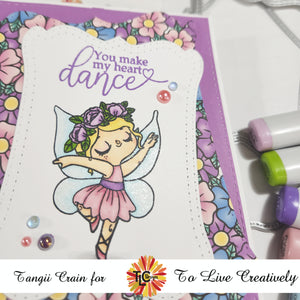 Hello and Happy Wednesday! 
Tangii
and today I'm whipping up a little card using some Fairy cute goodies from the shop! Let me share with you details on how I created it.