• TLC Designer • #Christmas • #Classic Santa Slimline paper • #ClassicSantaPaper • #Startspangleddie • christmas treats • Classic Santa Slimline Paper Pack • DT - Steph Ackerman • Happy Dragonfly Circle • Jingle Time Digital Stamps • Star Spangled Confetti Die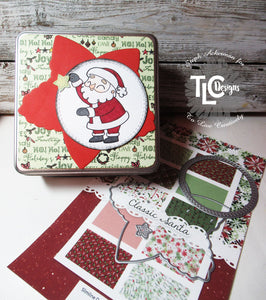 DT Steph sharing a last minutehappy
 Christmas gift for those who gather with friends or family after the holidays.
---
• TLC Designer • Christmas • Copic Coloring • Foil • Ho Ho ho • Jingle Time Digital Stamps • Niccole • Sketch-EZ #104 Challenge Bundle
Happy Thursday everyone.   Today I am sharing a card I made using the Sketch-EZ #104 Challenge BundleJingle Time Digital Stamp Set. I started by printing my Santa hat all over to make a piece of pattern paper.  I Copic colored them and added it to a green piece of paper slightly larger than my colored card front.  I attached it all to a red card base.  From there I printed my Ho Ho Ho sentiment with my laser printer and foiled it in the same red and green colors used on my card base.  I trimmed one of my Santa...
---
• TLC Designer • #AppleADayDie • #Christmascards • #Design Team • #DigitalStamps • #DT Marj • #Happy • #hellocard • #InkBlending • #InkyFingers • #ScallopedRectangleGarden • #snowyskiespaper • #TiptoeFairyDance • #WatercolorNaturals • Apple A Day Dies • Christmas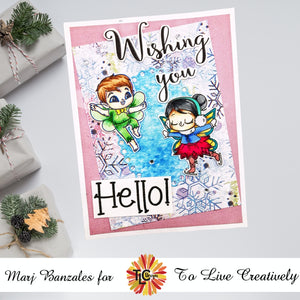 DT Marj shows how easy to combine different products from TLC Designs to create a beautiful and fun project.
---
• TLC Designer • #ForestPals • Christmas • christmas tag • christmas treats • DT - Steph Ackerman • Forest Pals • Happy Dragonfly Circle • Holiday Fun • Holiday Tag • Holidays • Jingle Time Digital Stamps • Snow Buddies • Snow Buddies Digital Stamp Set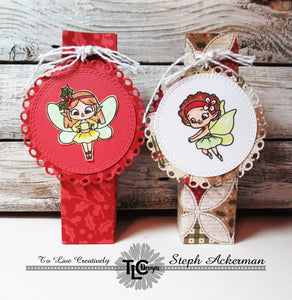 DT-Steph shares some sweet candy pouches that are perfect for holiday gift giving.
---
• TLC Designer • #Christmas • #Peppermint Paper Pack • butterfly Rectangle Die • butterfly rectangle frame • Butterfly Rectangle Frame Die • cheryl walker • christmas tag • christmas treats • Delicate Poinsettia • Delicate Poinsettia Stamps • DT- Cheryl Walker • Loving Petals Square Die • Peppermint Paper • Peppermint Slimline Digital Paper Pack • treat box • treat holders • Tuesday Treats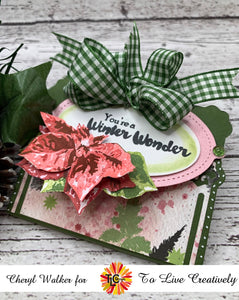 Hello crafty friends , today's treat holder was made using the TLC Designs Butterfly Rectangle Frame die set, along with the beautiful Delicate Poinsettia stamp set. Hope you enjoy! Hugs to all, Cheryl