• TLC Designer • #CelebrateSentiments • #Christmas • #Christmascards • #Design Team • #digitalpaper • #DigitalStamps • #dtkinjal • celebrate sentiments • Celebrated times • Chilly Fun Sprinkles • Clean & Simple Card • Digital Illustration • Digital paper • Digital Stamp • DT - Kinjal • DT-Kinjal Trivedi • Furniture Staples Digital Stamp • Gnomeone • Gnomeone Like You Digital Stamp Set • Holiday Fun • Pattern Paper • Snowy Skies Slimline paper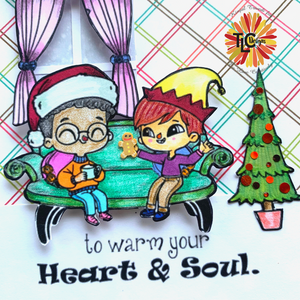 Hello all. This is Kinjal from Mind My Paper and I will be sharing a fun Christmas card today. Christmas is around the corner and I can imagine this scene being recreated in everyone's homes at the moment. Planning and figuring out the cookies, tree decorations, and gifts for the season ahead. This card is a traditional A2 card and the background paper is from the Celebrated Times Slimline Digital Paper Pack. This card uses a mix of the stamp set and printed illustrations from the TLC Designs shop. The stamp set is the Holiday Fun Stamp Set, and the...
---
• TLC Designer • #Christmas • Copic Coloring • Gnomeone Like You Digital Stamp Set • Niccole • One Layer Card • Winter
Happy Thursday everyone.  Today I am sharing a card I made using items from the Gnomeone Like You Digital Stamp Set.  I started by cutting my layers in green and gold foil.  I used my corner chopper to give the card so detail.   From there I printed my one layer card with only two images from the Gnomeone Like You Digital Stamp Set. I trimmed printed layer so both my colored layers showed well.  I Copic colored my trees.  I finished it off some little shimmer to the trees; both with glitter and gold gems. Here is one more look at my finished...
---
• TLC Designer • #DT Marj • #Peppermint Paper Pack • Aztec Sunshine Die Set • Aztec Sunshine Dies • Gnomeone • Gnomeone Like You Digital Stamp Set