• TLC Designer • DT - Rosemary Bridges • New Product • New Release
Happy Saturday friends! Today, we have a new release to welcome in spring featuring daisies and adorable kitties!


This release includes:
Gerbera Daisy Background Stamp
Gerbera Springtime Stencil
Gerbera Sunshine Daisy 1 Die
Gerbera Sunshine Daisy 2 Die
Kitty Kat Digital Stamps
Kitten Frills Polymer Stamps
---
• TLC Designer • #CreepingItReal • #Design Team • #dtkinjal • #EZSketchChallenge • #Halloween • #InteractiveCards • #ShakerCard • Celebrate Sweetly Stencil • Creeping it Real Digital Stamps • Digital Stamp • DT - Kinjal • DT-Kinjal Trivedi • EZ Cards • Interactive Card • New Product • New Release • Say Boo and Scary On • Sketch-EZ • Sketch-EZ Challege • Snowy & Evergreen Stencil • Snowy and Evergreen Stencil • Stencil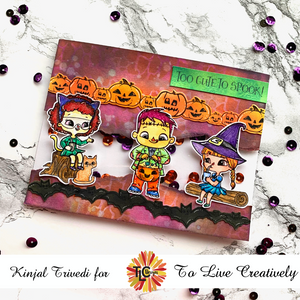 Hello and welcome. My name is Kinjal and I will be sharing a fun shaker card with a new digital stamp release and combining it with another older stamp set. I usually like to play around with my digital images before I begin the card. I combined the pumpkins and bats in two separate rows, playing with the sizes and placement. This way I have a border of each that I can cut down. I applied Spiced Marmalade and Crackling campfire using a brush over the pumpkins. I used Black Soot for the bats. Both the girls are from the...
---
• Shanna Slater • New Product • New Release • slimline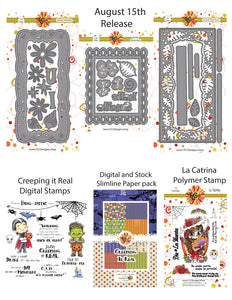 TLC Design's August 2021 release and I/G HOP!  Three new dies are releasing today!  You all asked, and TLC Designs listened...there are TWO NEW SLIMLINE DIES!!  The Slimline Multi-Slider is a fun Frame die set that has a leafy border--but includes interactive slider elements to add to *any* card!  The Zinnia Slimline die is a beautiful shaped slimline die that includes a layered Zinnia flower as well.  The Rosie Sentiment die is a fun elegantly shaped geometric die perfect to add to your collection and includes 2 new word dies as well! Additionally, There is a brand new, STUNNING polymer stamp...
---
• Shanna Slater • Blog Hop • Digital Illustration • Digital paper • New Product • New Release • Stock paper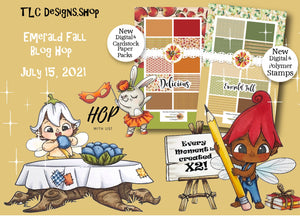 Come and see the fun and exciting Emerald Fall release from TLC Designs debut! The design team is hopping with a bunch of inspiration with all of the brand new products TLC Designs is bringing you.  There is bound to be something for everyone in this release!
---
• Tammy Louise Cunliffe • butterfly Rectangle Die • GIVEAWAY • Ink me in Pink Free digi • Ink me in Pink paper pack digi • Land and Seas Die • Lovely Square Die • New Product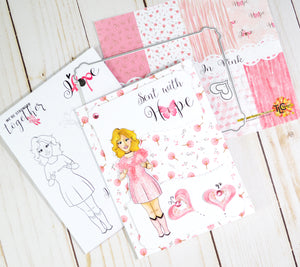 October is Breast Cancer awareness month and every year is another opportunity to support research, inspire men and women struggling from this disease and to come together in a united way!   TLCDesigns.shop is a Sponsor for the 2020 Ink! Pink IG hop and hopes you will join in!