• TLC Designer • #DaisyFrameDie • #KraftyandSweetPaperPack • #TiptoeFairyDance • cheryl walker • Daisy Frame Die • DT- Cheryl Walker • Krafty & Sweet Slimline Digital Paper • Tiptoe Fairy Dance • Tiptoe Fairy Dancy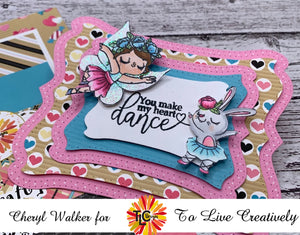 Hello crafty friends and Happy Tuesday to you all! I do hope you all had a very Merry Christmas! Today's card I'm sharing with you was designed using the darling Tiptoe Fairy Dance Stamp set. Just love this darling set, so many cute images in it. So for todays card I chose to use 2 of them. To start with I chose the die set called Daisy Frame Die, and cut out all my layers using pink card stock and the beautiful Krafty & Sweet Design paper. Next I stampe my sentiment on the white card stock. My images were...
---
• TLC Designer • #digitalpaper • #DigitalStamps • #dtkinjal • #EZSketchChallenge • #KraftyandSweetPaperPack • #TLCDesignsChallenge • celebrate frame die • Chilly Fun Sprinkles • Coloring • Digital Illustration • Digital paper • Digital Stamp • DT - Kinjal • DT-Kinjal Trivedi • EZ Cards • Kraft and Sweet Digital Papers • Kraft Card Stock • Krafty & Sweet Slimline Digital Paper • Sketch-EZ • Sketch-EZ Challege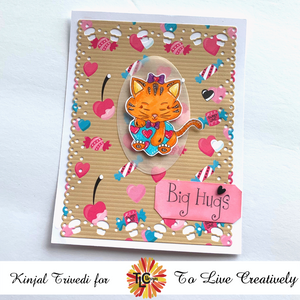 Hello there. TLC Designs has a fun challenge every month. It offers a digital image for a discounted price that you can download and play with to enter the challenge. Winners get a GC to the store at the end of the month! It's such a fun way to participate and see different versions of the same digital stamp. To get your creative juices flowing, here is the inspiration for this month's EZ Sketch Challenge #117. For this card, I used an additional cupcake digital paper from the Krafty & Sweet Slimline Digital Paper and used the Celebrate Frame Die to add...
---
• TLC Designer • #ActionStamps • #AlicornHappiness • #AppleADayDie • #CelebrateSentiments • #KraftyandSweetPaperPack • #OneEyedHarry • #ScallopedRectangleGarden • #SlimlineMultiSlider • #TLCDesignsChallenge • #WatercolorNaturals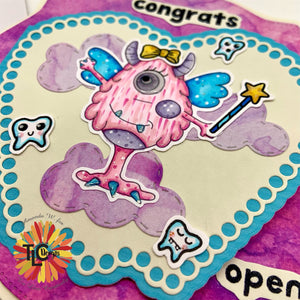 Hello crafty friends! It's Amanda from @CaveWitchCrafts! I'm here with another card I created for the TLC Designs Challenge: CELEBRATIONS! For this scene, I wanted to showcase our celebration of losing teeth! When I saw the One-Eye-Harry digital stamp, the toothy winged cutie just screamed tooth fairy to me!