• TLC Designer • #DaisyFrameDie • #KraftyandSweetPaperPack • #TiptoeFairyDance • cheryl walker • Daisy Frame Die • DT- Cheryl Walker • Krafty & Sweet Slimline Digital Paper • Tiptoe Fairy Dance • Tiptoe Fairy Dancy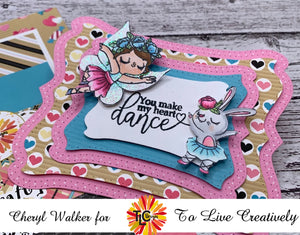 Hello crafty friends and Happy Tuesday to you all! I do hope you all had a very Merry Christmas! Today's card I'm sharing with you was designed using the darling Tiptoe Fairy Dance Stamp set. Just love this darling set, so many cute images in it. So for todays card I chose to use 2 of them. To start with I chose the die set called Daisy Frame Die, and cut out all my layers using pink card stock and the beautiful Krafty & Sweet Design paper. Next I stampe my sentiment on the white card stock. My images were...
---
• TLC Designer • #AztecSunshineDie • #CelebrateSentiments • #LandandSeaDies • #ScallopedRectangleGarden • #TiptoeFairyDance • #YouAreMySunshinePaperPack • Aztec Sunshine Circle Die • Aztec Sunshine Die Set • Aztec Sunshine Dies • Celebrate • celebrate sentiments • Celebrate Stamp Set • Coloring • copic coloring • DT - Steph Ackerman • Land and Sea Dies • Land and Seas Die • Scallop Rectangle Garden Die • Scalloped Rectangle Garden Dies • Tiptoe Fairy Dance • Tiptoe Fairy Dancy • You Are My Sunshine Paper Pack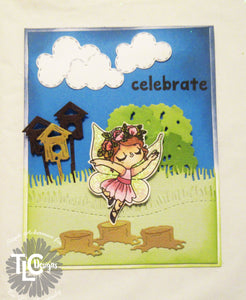 DT - Steph has created a sweet celebratory card using the Tip Toe Fairy stamp with assorted dies
---
• TLC Designer • DT - Marilyn Scheller • Tiptoe Fairy Dancy
Hi there.  Marilyn here and I don't know about you but it's hard for me to believe it's the end of July already, this summer is flying by. Today's card was created using the cute and recently released Tip Toe Fairy Dance stamp set.  To begin, use the 'smooshing' technique which is an easy way to create your own quick and personalized background.  I used a piece of acetate, rubbed purple distress ink across it, then spritzed it with water and 'smooshed' it down onto a section of paper.    You can make the colored area as large or small as you like and...
---
• Shanna Slater • DT-Shanna Slater • Fun Fold • Perfectly Precious Paper Pack • Tiptoe Fairy Dancy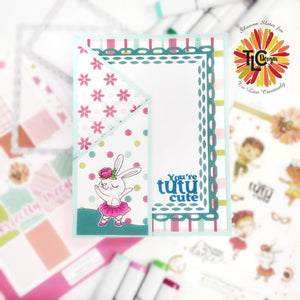 Join Design team member Shanna as she creates a Fun Fold card featuring dies. stamps, and papers all from TLC Designs.
---
• TLC Designer • Aztec Sunshine Die Set • Blooming Medley Designer Paper • Cherry on Top Die Set • DT Melanie • Tiny Vine Oval Die Set • Tiptoe Fairy Dancy