• TLC Designer • #Christmas • #Classic Santa Slimline paper • #ClassicSantaPaper • #Startspangleddie • christmas treats • Classic Santa Slimline Paper Pack • DT - Steph Ackerman • Happy Dragonfly Circle • Jingle Time Digital Stamps • Star Spangled Confetti Die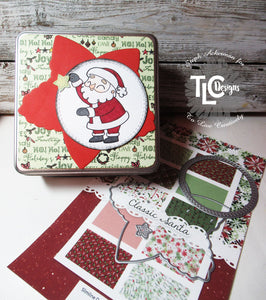 DT Steph sharing a last minutehappy
 Christmas gift for those who gather with friends or family after the holidays.
---
• TLC Designer • Christmas • Copic Coloring • Foil • Ho Ho ho • Jingle Time Digital Stamps • Niccole • Sketch-EZ #104 Challenge Bundle
Happy Thursday everyone.   Today I am sharing a card I made using the Sketch-EZ #104 Challenge BundleJingle Time Digital Stamp Set. I started by printing my Santa hat all over to make a piece of pattern paper.  I Copic colored them and added it to a green piece of paper slightly larger than my colored card front.  I attached it all to a red card base.  From there I printed my Ho Ho Ho sentiment with my laser printer and foiled it in the same red and green colors used on my card base.  I trimmed one of my Santa...
---
• TLC Designer • #ForestPals • Christmas • christmas tag • christmas treats • DT - Steph Ackerman • Forest Pals • Happy Dragonfly Circle • Holiday Fun • Holiday Tag • Holidays • Jingle Time Digital Stamps • Snow Buddies • Snow Buddies Digital Stamp Set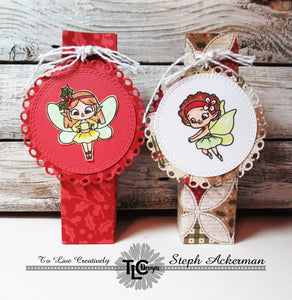 DT-Steph shares some sweet candy pouches that are perfect for holiday gift giving.
---
• TLC Designer • Classic Santa Slimline Paper Pack • DT - Rosemary Bridges • Jingle Time Digital Stamps • Tiny Vine Oval Die Set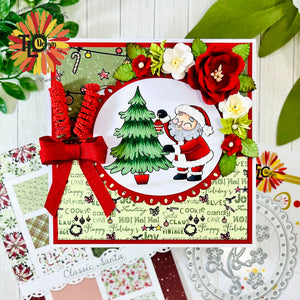 Happy Thursday Friends! Are you ready for Christmas next week?! It's crazy to me that it's almost here! Have you finished all your Christmas decorating? Well, as you can see, Santa is a little behind on decorating his tree. I guess the Elves were too busy making and sorting presents that they forgot all about it, haha!
---
• TLC Designer • Jingle Time Digital Stamps • Star Spangled Confetti Die • Tangii Crain • Warm & Fuzzy Unicorn Stamp Set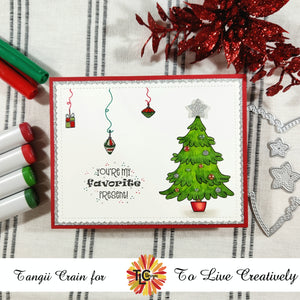 Hello and Happy Wednesday! 
Tangii
 here, come check out how I used a digital stamp set, a stamped sentiment & die set to make an adorable Christmas card that's super easy to mass produce!