• TLC Designer • DT Merja Sivonen • Happy Dragonfly Circle • Jingle Time Digital Stamps • See you in the Center dies • Snow Family Fun Digital Papers • Tutorial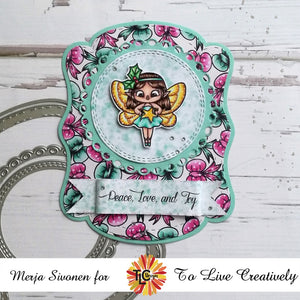 Check out the tutorial on how to create this beautiful Christmas card with non-traditional Christmas colours.
---
• TLC Designer • CAS • Christmas • Foil • Jingle Time Digital Stamps • Niccole • Santa
Happy Thursday everyone.   Today I am sharing a card I made using items from the Jingle Time Digital Stamp Set. I started by figuring out the size I wanted my images and arranged them and then printed it.  I knew I wanted a one layer card because I wanted to foil and that add so much to a card you don't a whole lot of other fancy things LOL. From here I covered up my Santa and Foiled the Ho Ho Ho in two colors of foil.  I Copic colored my Santa and finished him off with some glitter Glue...
---
• TLC Designer • Aztec Sunshine Circle Die • Delicate Poinsettia Stamps • DT - Rosemary Bridges • Holiday Gnomies Digital Stamps • Jingle Time Digital Stamps • New Release • Snowy Skies Slimline paper • Warm & Fuzzy Unicorn Stamps • Winter Florals Stencil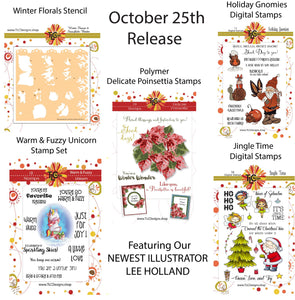 Happy Tuesday everyone! We have a NEW RELEASE launching today that is perfect for the holidays!


This release includes .....

* Winter Florals Stencil
* Holiday Gnomies Digital Stamps

* Jingle Time Digital Stamps
* Delicate Poinsettia Polymer Stamps

We are also introducing a brand new illustrator to the TLC Designs Family. Please give a warm welcome to....
LEE HOLLAND!
* Warm & Fuzzy Unicorn Stamp Set