• TLC Designer • #ForestPals • #InteractiveCards • #TinyVineOval • Celebrate Sweetly Stencil • cheryl walker • DT- Cheryl Walker • Forest Pals • Fun Fold • hidden message card • Interactive Card • Interactive Die • layered cards • See You In The Center • See you in the Center dies • Sincerely Yours Digital paper • Sincerely Yours Slimline stock paper pack • Tiny Vine Oval • Tiny Vine Oval Die Set
Hello crafty friends, I have a fun fold card today with a hidden message &
videos
to share. Hope you enjoy! Hugs, Cheryl
---
• TLC Designer • #EmeraldFall • #LovingPetalSquares • #somethingbloomed • Celebrate Sweetly Stencil • cheryl walker • copic coloring • DT- Cheryl Walker • Emerald Fall Paper Pack • fall cards • layered cards • Loving Petals Square Die • Something Bloomed Papers • Turtle-icious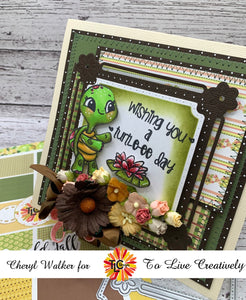 Hello crafty friends and Happy Tuesday to you all! Cheryl here with a super fun card I made for TLC Designs using the darling Turtle-icous stamp set, papers, stencil, and dies. First thing I did was cut my cream card stock to 6" x 12" and score at the 6" mark to make a 6" x 6" card base. Second thing is cutting all my dark brown card stock and design paper pieces and for this card I chose to mix and match 2 different design paper sets. I used the Something Bloomed & Emerald Fall design paper packs. I...
---
• TLC Designer • #CreepingItReal • #Design Team • #dtkinjal • #EZSketchChallenge • #Halloween • #InteractiveCards • #ShakerCard • Celebrate Sweetly Stencil • Creeping it Real Digital Stamps • Digital Stamp • DT - Kinjal • DT-Kinjal Trivedi • EZ Cards • Interactive Card • New Product • New Release • Say Boo and Scary On • Sketch-EZ • Sketch-EZ Challege • Snowy & Evergreen Stencil • Snowy and Evergreen Stencil • Stencil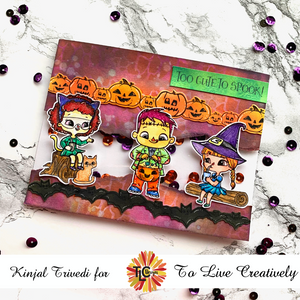 Hello and welcome. My name is Kinjal and I will be sharing a fun shaker card with a new digital stamp release and combining it with another older stamp set. I usually like to play around with my digital images before I begin the card. I combined the pumpkins and bats in two separate rows, playing with the sizes and placement. This way I have a border of each that I can cut down. I applied Spiced Marmalade and Crackling campfire using a brush over the pumpkins. I used Black Soot for the bats. Both the girls are from the...
---
• Shanna Slater • 3 Products 3 Ways • Celebrate • celebrate frame die • celebrate sentiments • Celebrate Sweetly Stencil • DT-Shanna Slater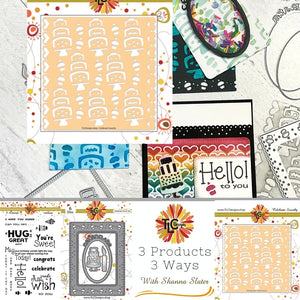 Hello and Welcome!  This is Shanna today with another 3 Products 3 Ways on the third!   This month is all about: Celebrate Frame Dies Celebrate Polymer Sentiment Stamps Celebrate Sweetly Stencil I had a lot of fun (as usual!) creating this trio of projects--so let's get started! For my first card I created a mini slimline that used the Celebrate Sweetly Stencil across the bottom 2/3 of the card panel.  I masked at an angle the top of the panel while I stenciled in blue, purple, and pink inks---then after I lifted the stencil I went back over the...
---
• TLC Designer • Celebrate Sweetly Stencil • Clearly Classic Stencil • DT - Rosemary Bridges • Happy Bloom Day & Clouds Stencil • Splash of Hearts & Land Stencil
Happy Friday everyone! It's Rosie here today for TLC Designs, showcasing a brand new product to the store....STENCILS! We all know how versatile stencils can be, and lately they are growing more and more in popularity. They give you the ability to create your own gorgeous backgrounds using any color combos you want. In addition, stencils can be used over and over again to create patterns quickly using various mediums like ink, glitter gels, paint, embossing ink and powders....the list goes on and on! 
This release includes 4 Stencils! They were designed within a 6x6 space with a center design and designs on the edges. You can make clouds, hills, geometric designs, and more!!