• TLC Designer • #Design Team • #DigitalStamps • #dtkinjal • #LandandSeaDies • Coloring • DT - Kinjal • DT-Kinjal Trivedi • Fancy Fin • Fancy Fin Digital • Hula Hello • Land and Sea Dies • Land and Seas Die • Seahorse Samm • Seahorse Samm digital stamp set • Underwater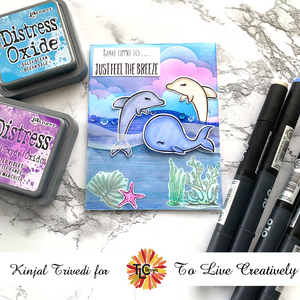 Hey there. This is DT Kinjal and today I am sharing some ocean vellum fun with all of you.  I love adding vellum to cards and especially when I can color them. I colored them using the new OLO markers in light and dark blues. I die cut the vellum ocean with the die from the Land and Sea dies. The best thing about this die is that it gives a stitched border on both sides of the paper, so you die cut lesser times. I added the coral and leaf at the base, which is from the Seahorse Samm Digital...
---
• TLC Designer • Balloon • Blooming Medley Designer Paper • Copic Coloring • Fancy Fin • Happy The Dragon • Must Have Sentiments • Niccole • Pattern Paper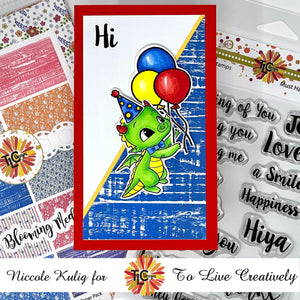 I justlove how fun this card is.  The primary colors make it so vibrant. I used the  Happy The Dragon Digital Stamp Set and the Fancy Fin Digital Stamp Set.  I also used the Must Have Sentiment Stamp Set  and the Blooming medley Slimline Paper Pack. I started by Copic coloring balloons that I cut from the Fancy Fin Digital Stamp Set.  I wanted regular balloons not a heart balloon like in the Happy The Dragon Digital Stamp Set. I also colored the dragon and the birthday hat from the Happy The Dragon set.  I attached the blue wood grain pattern paper to...