• TLC Designer • #BloomingMedley • #DaisyFrameDie • #Design Team • #DigitalStamps • #ForestPals • #HappyBloomDay&Clouds • #hellocard • #kittengems • #OvallilyFrame • #RosieSentiment • #Stencil • #TinyVineOval • Blooming Medley Designer Paper • copic coloring • Daisy Frame Die • DT - Steph Ackerman • Forest Pals • Happy Bloom Day & Clouds Stencil • kitten Gems • oval lily frame • Rosie Sentiment Die • Tiny Vine Oval • Tiny Vine Oval Die Set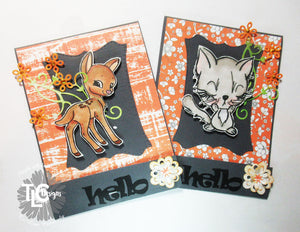 DT Steph Ackerman shares how to incorporate an assortment of stamps, dies and papers to create matchbook cards.
---
• TLC Designer • #CelebrateSentiments • Birthday • Birthday card • DT - Steph Ackerman • Loving Petals Square Die • oval lily frame • Sincerely Yours Digital paper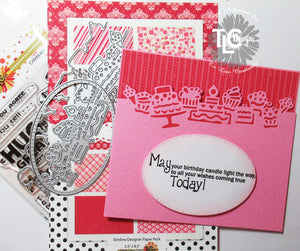 Hi everyone and happy Monday.  Steph here to share a sweet birthday card using products from TLC Designs.   Create a 6x6 card from pink cardstock.  Place the Celebrate Border Die approximately 2" down and run through a die cut machine. Cut red cardstock to fit the front of the card, then use the outer die to die cut the red cardstock creating the solid border behind the cakes.  Taking a sheet of paper from the Sincerely Yours paper pack, adhere it to the card base.  Stamp a phrase from the Celebrate Stamp set and die cut with dies from the Loving Petals Square.  Adhere to the card base...
---
• TLC Designer • DT - Melanie Smith • Gift of Love • Loving Petals Square Die • oval lily frame • Snow Family Fun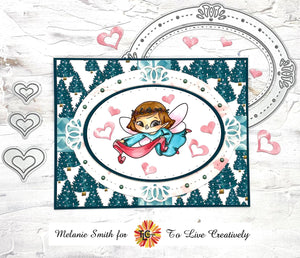 ---
• Tammy Louise Cunliffe • butterfly rectangle frame • FB LIVE • Happy the Dragon • New Product • oval lily frame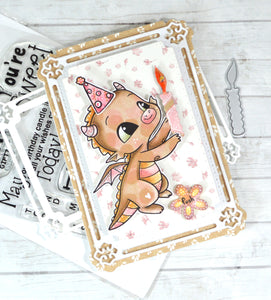 It's the sweetest little dragon in the world and it's in Polymer for all your stamping occasions now at TLCDesigns.shop!  Happy is the name of this stamp set and today she is dressed up for a party and with this interactive die demonstrated and assembled on FB live with Tammy Louise, she's lighting up your birthday candle with the Pear Blossom Press EZ-lite mechanism.  Come and watch how simple it really is!