• TLC Designer • #BloomingMedley • #DaisyFrameDie • #Design Team • #DigitalStamps • #ForestPals • #HappyBloomDay&Clouds • #hellocard • #kittengems • #OvallilyFrame • #RosieSentiment • #Stencil • #TinyVineOval • Blooming Medley Designer Paper • copic coloring • Daisy Frame Die • DT - Steph Ackerman • Forest Pals • Happy Bloom Day & Clouds Stencil • kitten Gems • oval lily frame • Rosie Sentiment Die • Tiny Vine Oval • Tiny Vine Oval Die Set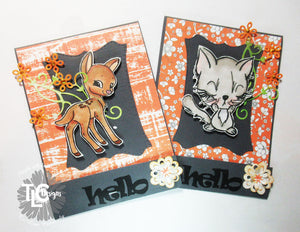 DT Steph Ackerman shares how to incorporate an assortment of stamps, dies and papers to create matchbook cards.
---
• TLC Designer • #Design Team • #dtkinjal • #OvallilyFrame • #RosieSentiment • #ZinniaSlimline • Blessings • Blessings digital stamp set • Blessings Mouse • Digital Illustration • Digital paper • DT - Kinjal • DT-Kinjal Trivedi • Rosie Sentiment Die • Stencil • Zinnia Slimline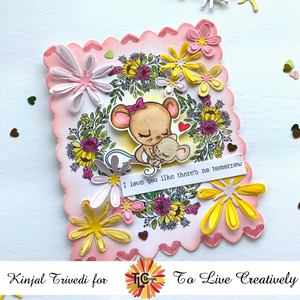 Hello! This is your DT member Kinjal from Mind My Paper, sharing the blog post for today. I am sharing this super fun and busy card using lots of TLC Designs products. I love playing around with digital images as you can do so much with them. I printed the flower bouquets that were used 4 times to create a frame and also the Blessings Mouse image. I colored all the images using polychromos. Using DO Tattered Rose I softly inked the edges. The stencils at TLC Designs also come with additional border designs so you can use the stencils in...
---
• TLC Designer • #ActionStamps • #DoubleDialDie2 • #HoppingFriendsSentiments • #HoppingHares • #InteractiveCards • #OvalLilyFrame • #ScallopedRectangleGarden • #SliderCard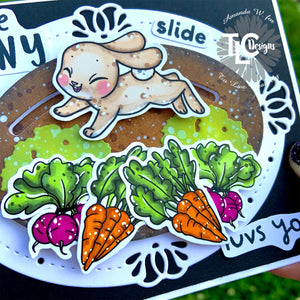 Hello Crafty Friends! Amanda here from 
@CaveWitchCrafts
, and I'm back on the blog to share a fun interactive garden scene! I created a similar card for TLC Designs May release Instagram hop, and I wanted to share details on how I created it.
---
• TLC Designer • #ColorInspiration • #DT Marj • #MustHaveSentiments • #OvallilyFrame • #somethingbloomed
DT Marj shares a new card using the Hopping Hares Stamp with Must Have Sentiments, Oval Lily Frame and Something Bloomed Designer Paper.