• TLC Designer • #digitalpaper • #DigitalStamps • #dtkinjal • #EZSketchChallenge • #KraftyandSweetPaperPack • #TLCDesignsChallenge • celebrate frame die • Chilly Fun Sprinkles • Coloring • Digital Illustration • Digital paper • Digital Stamp • DT - Kinjal • DT-Kinjal Trivedi • EZ Cards • Kraft and Sweet Digital Papers • Kraft Card Stock • Krafty & Sweet Slimline Digital Paper • Sketch-EZ • Sketch-EZ Challege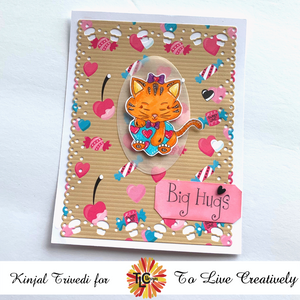 Hello there. TLC Designs has a fun challenge every month. It offers a digital image for a discounted price that you can download and play with to enter the challenge. Winners get a GC to the store at the end of the month! It's such a fun way to participate and see different versions of the same digital stamp. To get your creative juices flowing, here is the inspiration for this month's EZ Sketch Challenge #117. For this card, I used an additional cupcake digital paper from the Krafty & Sweet Slimline Digital Paper and used the Celebrate Frame Die to add...
---
• Shanna Slater • celebrate frame die • celebrate sentiments • DT-Shanna Slater • Kraft and Sweet Digital Papers • Sketch-EZ • Sweetie the Dragon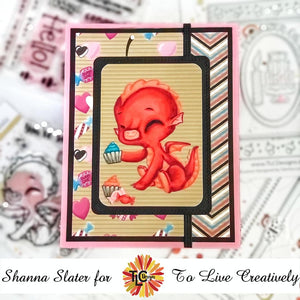 Hello and welcome! I am so glad you stopped by,  This is Shanna from Caffeinated Craftiness and I am here today with a brand new project featuring products from TLC Designs.   Did you hear about our new sketch challenge??  DT member Kendra debuted it last month, and this month's is going strong!  There is a video over on Youtube with more details, I will link it *HERE*.  It is not mandatory to use, but there is a specially priced digital bundle available to use with the monthly sketch.  This month's features the brand new Creeping it Real. Today I...
---
• TLC Designer • DT- Danni Bindel • Kraft and Sweet Digital Papers • Land and Seas Die • Scalloped Rectangles Garden • Togas and Bubbles stamp set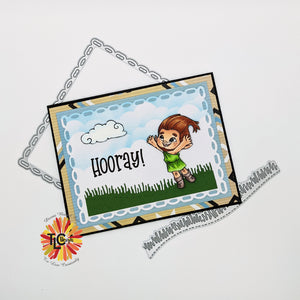 Hello! Danni here and I am so excited to be here to share my first TLC Designs creation with you!!   For my debut card I had the hardest time choosing what to create as I had a zillion ideas in my head but finally decided to use the super fun and happy stamp set, Toga's and Bubbles. The trolls in this set are just having so much fun!! They all make me smile! I used the Scalloped Rectangle Garden dies to start my little scene for my troll from the Toga's and Bubbles set. I love making clouds so I used a stencil to...