• TLC Designer • #Christmas • #Christmascards • #Design Team • #dtkinjal • #KoalaKindness • #poshpups • #SnowFamilyFunMail • celebrate sprinkles • Chilly Fun Sprinkles • Digital Stamp • DT - Kinjal • Koala Kindness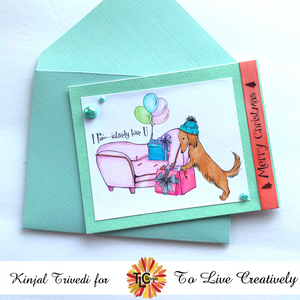 It's officially December and Christmas is in full swing. This card is for all you pet owners out there so that your doggo isn't left out. This image is from the TLC Designs store called Posh Pups Digital Stamp Set. I used the sofa, gifts, and the Doxie (dachshund) from this stamp set and added the balloons from the Koala Kindness Digital Stamp Set. I colored the image using markers, brushes, and polychromos pencils. I kept the entire image clean and simple and one layered (I hardly ever make those!). I cut the image down so that the image would...
---
• TLC Designer • #Birthday • #BloomingMedley • #CelebrateSentiments • #DT Marj • #poshpups • #SlimlineCard • #ZinniaSlimline • Blooming Medley Designer Paper
A fun slimline card with fun elements created by DT Marj using One Eyed Harry and several products from TLC Designs.