• TLC Designer • #ActionStamps • #Design Team • #InteractiveCards • Action Stamps • Celebrated Times Slimline Paper Pack • Coloring • DT Shannon • Gnome Celebration Stamp Set • Interactive Card • Interactive Die • Interactive Dies • See You In The Center • See you in the Center dies • Stock paper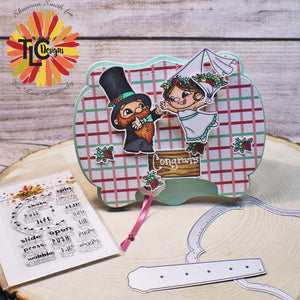 Hello my crafty friends. My name is Shannon and I'm so happy to be here with you on the TLC Designs blog. I hope you're able to spend time in your happy place today.   Today's card is made with images from the Gnome Celebrations stamp set and the See You In The Center die set, both from TLC Designs. I started by stamping the images with an ink that is compatible with alcohol markers since I will be coloring with my Ohuhu markers, onto smooth white cardstock. After coloring the images, I sent them through my Brother Scan N...
---
• TLC Designer • #snowyskiespaper • #ZinniaSlimline • Cherry on Top • Cherry on Top Die Set • DT - Steph Ackerman • Holiday Gnomies Digital Stamps • Pastels • Snowy Skies Slimline paper • Stock paper • Zinnia Slimline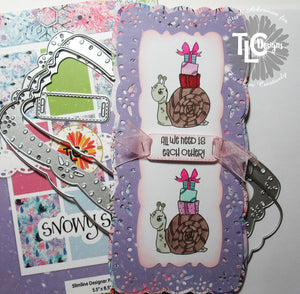 DT - Steph has created a slimline card using the sweet Holiday Gnomies Digital set
---
• TLC Designer • #DigitalStamps • #easyquickcards • 4th of July • copic coloring • DT - Steph Ackerman • Gnorman for ALl • Star Spangled Confetti Die • Stock paper • Watercolor Naturals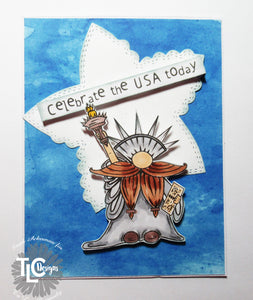 DT-Steph has created a 4th of July card using the Gnorman for All! digital stamp set along with Watercolor Natural paper and Star Spanged Confetti Die.
---
• Shanna Slater • Blog Hop • Digital Illustration • Digital paper • New Product • New Release • Stock paper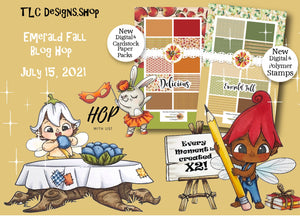 Come and see the fun and exciting Emerald Fall release from TLC Designs debut! The design team is hopping with a bunch of inspiration with all of the brand new products TLC Designs is bringing you.  There is bound to be something for everyone in this release!