• TLC Designer • #CelebrateSentiments • #LovingPetalSquares • #somethingbloomed • #ZinniaSlimline • Celebrate • Celebrate Sentiment Stamps • celebrate sentiments • DT Shannon • Something Bloomed Papers • Zinnia Slimline • Zinnia Slimline Die Set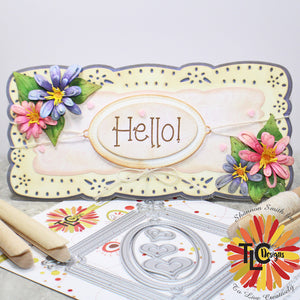 Hello crafty friends. Today I have a slimline card made with the Zinnia Slimline Die Set, Something Bloomed Paper Pack, Celebrate Stamp Set, and Loving Petals Square Die Set. I started by cutting the panels for the shaped card with the two largest dies in the Zinnia Slimline Die Set. To give the panels a distressed look, I used Distress Ink in Antique Linen to darken the cardstock pieces. To create the flowers in the corners, I used Heartfelt Creations Deluxe Flower Shaping Paper.  I inked them with Distress Inks to create pink and purple flowers and green leaves. Using...
---
• TLC Designer • #AztecSunshineDie • #CelebrateSentiments • #LandandSeaDies • #ScallopedRectangleGarden • #TiptoeFairyDance • #YouAreMySunshinePaperPack • Aztec Sunshine Circle Die • Aztec Sunshine Die Set • Aztec Sunshine Dies • Celebrate • celebrate sentiments • Celebrate Stamp Set • Coloring • copic coloring • DT - Steph Ackerman • Land and Sea Dies • Land and Seas Die • Scallop Rectangle Garden Die • Scalloped Rectangle Garden Dies • Tiptoe Fairy Dance • Tiptoe Fairy Dancy • You Are My Sunshine Paper Pack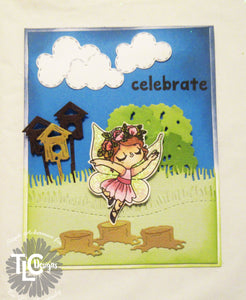 DT - Steph has created a sweet celebratory card using the Tip Toe Fairy stamp with assorted dies
---
• TLC Designer • #CelebrateSentiments • #Christmas • #Christmascards • #Design Team • #digitalpaper • #DigitalStamps • #dtkinjal • celebrate sentiments • Celebrated times • Chilly Fun Sprinkles • Clean & Simple Card • Digital Illustration • Digital paper • Digital Stamp • DT - Kinjal • DT-Kinjal Trivedi • Furniture Staples Digital Stamp • Gnomeone • Gnomeone Like You Digital Stamp Set • Holiday Fun • Pattern Paper • Snowy Skies Slimline paper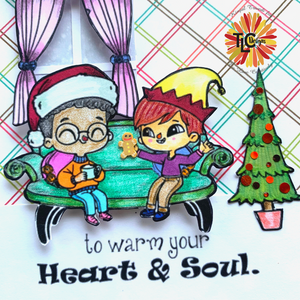 Hello all. This is Kinjal from Mind My Paper and I will be sharing a fun Christmas card today. Christmas is around the corner and I can imagine this scene being recreated in everyone's homes at the moment. Planning and figuring out the cookies, tree decorations, and gifts for the season ahead. This card is a traditional A2 card and the background paper is from the Celebrated Times Slimline Digital Paper Pack. This card uses a mix of the stamp set and printed illustrations from the TLC Designs shop. The stamp set is the Holiday Fun Stamp Set, and the...
---
• Shanna Slater • 3 Products 3 Ways • Celebrate • celebrate frame die • celebrate sentiments • Celebrate Sweetly Stencil • DT-Shanna Slater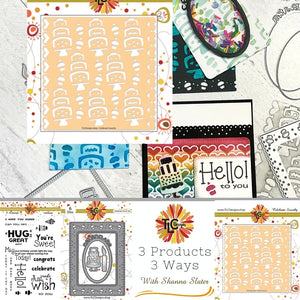 Hello and Welcome!  This is Shanna today with another 3 Products 3 Ways on the third!   This month is all about: Celebrate Frame Dies Celebrate Polymer Sentiment Stamps Celebrate Sweetly Stencil I had a lot of fun (as usual!) creating this trio of projects--so let's get started! For my first card I created a mini slimline that used the Celebrate Sweetly Stencil across the bottom 2/3 of the card panel.  I masked at an angle the top of the panel while I stenciled in blue, purple, and pink inks---then after I lifted the stencil I went back over the...
---
• TLC Designer • #CelebrateSentiments • #Delicious • #DeliciousPaperPack • #InteractiveCards • celebrate frame die • celebrate sentiments • Celebrate Stamp Set • DT - Steph Ackerman • See you in the Center dies • Sweetie the Dragon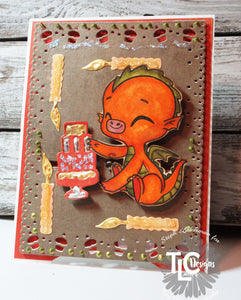 DT-Steph Ackerman shares how she created an interactive card using the Celebrate Frame Die and elements from the See You in the Center Die