• TLC Designer • #Classic Santa Slimline paper • #DT Marj • #LandandSeaDies • #ScallopedRectangleGarden • DT Marj Banzales • Land and Sea Dies • Land and Seas Die • New Release • Scallop Rectangle Garden Die • Scalloped Rectangle Garden Dies • Scalloped Rectangles Garden • Snow Buddies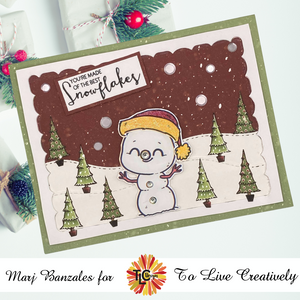 DT Marj shares another Christmas card using several products from the latest release. Come check it out!
---
• Shanna Slater • Double Dial 2 Interactive Die • Holiday Fun • New Release • Snowy Skies Slimline paper • The Gift of Joy • The Gift of Love • The Gift of Peace
The October release is here!!!  This is Shanna here today to share the news...Have you seen all of the adorable new images and the amazingly cute new paper pad yet in the shop??  You can check them all out HERE.  This release includes the following images and paper: Holiday Fun polymer stamp setThe Gift of Joy polymer stamp setThe Gift of Love polymer stamp setThe Gift of Peace polymer stamp setSnowy Skies Slimline paper pack (digital OR physical paper) I created a fun interactive card using the Gift of Joy and Gift of Peace stamps and the beautiful new Snowy Skies paper pack...
---
• Shanna Slater • New Product • New Release • slimline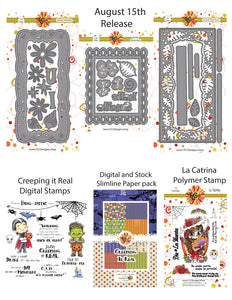 TLC Design's August 2021 release and I/G HOP!  Three new dies are releasing today!  You all asked, and TLC Designs listened...there are TWO NEW SLIMLINE DIES!!  The Slimline Multi-Slider is a fun Frame die set that has a leafy border--but includes interactive slider elements to add to *any* card!  The Zinnia Slimline die is a beautiful shaped slimline die that includes a layered Zinnia flower as well.  The Rosie Sentiment die is a fun elegantly shaped geometric die perfect to add to your collection and includes 2 new word dies as well! Additionally, There is a brand new, STUNNING polymer stamp...
---
• Shanna Slater • Blog Hop • Digital Illustration • Digital paper • New Product • New Release • Stock paper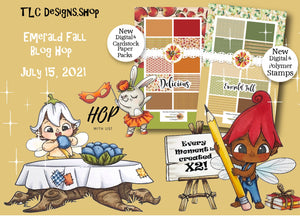 Come and see the fun and exciting Emerald Fall release from TLC Designs debut! The design team is hopping with a bunch of inspiration with all of the brand new products TLC Designs is bringing you.  There is bound to be something for everyone in this release!