• TLC Designer • #Design Team • #DigitalStamps • #easyquickcards • #SlimlineCard • #ZinniaSlimline • copic coloring • DT - Steph Ackerman • Magical Delight digital paper • Seahorse Samm digital stamp set • slimline • Zinnia Slimline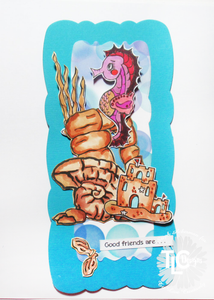 Steph shares a summery slimline card using assorted TLC Designs products.
---
• TLC Designer • DT - Marilyn Scheller • Seahorse Samm digital stamp set • Watercolor Naturals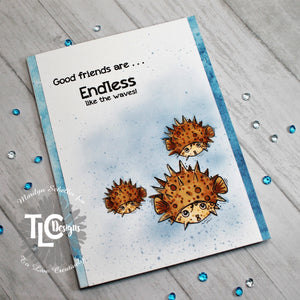 Hi all, hope you are doing well.  Marilyn here today with a card made using the digital stamp set Seahorse Samm. To begin, the fish were sized differently, two of the sentiments were combined and all printed onto white cardstock.  The background piece of paper was printed using one of the pretty designs from the Watercolor Naturals digital paper and once all the papers were printed and cut, the fish were masked off and blue distress ink sponged around them.  The same ink was spattered using an old toothbrush.  Finally, after removing the masking paper, the fish were coloured with Copic markers...