• TLC Designer • #Christmas • #Design Team • #digitalpaper • #DigitalStamps • #dtkinjal • #HolidayTags • #LandandSeaDies • #Peppermint Paper Pack • Chilly Fun • Daisy Frame Die • Digital Illustration • Digital paper • Digital Stamp • DT - Kinjal • DT-Kinjal Trivedi • Happy Dragonfly Circle • Land and Sea Dies • Land and Seas Die • See Ya On The Slopes Digital Stamps • Tag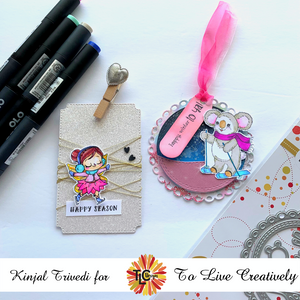 Hi there! This is DT Kinjal and today I'll be sharing two fun gift tags. I don't know about y'all, but I always need tags to attach to gifts.  Tag 1: Happy Season Girl This tag is just so cute and super elegant. I die-cut glitter cardstock using the Butterfly Rectangle Frame Die. Using any thread of your choice, I chose this gold thread, wrap the piece a couple of times in any order that you would like, and tape it at the back. To cover the back, I die-cut another white cardstock and glued it to the back.  Next, I stamped this image...
---
• TLC Designer • #CreepingItReal • #Design Team • #dtkinjal • #EZSketchChallenge • #Halloween • #InteractiveCards • #ShakerCard • Celebrate Sweetly Stencil • Creeping it Real Digital Stamps • Digital Stamp • DT - Kinjal • DT-Kinjal Trivedi • EZ Cards • Interactive Card • New Product • New Release • Say Boo and Scary On • Sketch-EZ • Sketch-EZ Challege • Snowy & Evergreen Stencil • Snowy and Evergreen Stencil • Stencil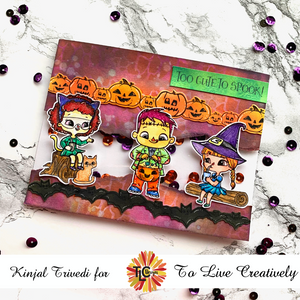 Hello and welcome. My name is Kinjal and I will be sharing a fun shaker card with a new digital stamp release and combining it with another older stamp set. I usually like to play around with my digital images before I begin the card. I combined the pumpkins and bats in two separate rows, playing with the sizes and placement. This way I have a border of each that I can cut down. I applied Spiced Marmalade and Crackling campfire using a brush over the pumpkins. I used Black Soot for the bats. Both the girls are from the...
---
• TLC Designer • #Delicious • #DeliciousPaperPack • #Design Team • #easyquickcards • #Halloween • butterfly Rectangle Die • butterfly rectangle frame • Butterfly Rectangle Frame Die • Cards For Kids • Delicious Designer Paper Pack • Digital Stamp • DT • DT - Steph Ackerman
DT-Steph Ackerman shares a sweet Halloween card using the Butterfly Rectangle Die and Stay Boo and Scary On digital stamps.
---
• TLC Designer • Copic Coloring • Digital Stamp • Floating Image • Interactive Card • Mirror Image Stamping • Rosie Sentiment Die • Sun Shiny Days Slimline Paper Pack • Winking Wanda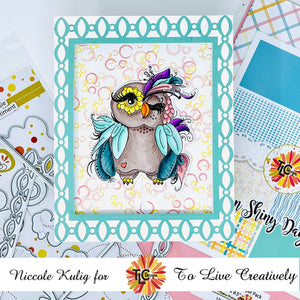 I had so much fun making this card. The dancing owl just makes you smile doesn't it? I used the Winking Wanda Digital Stamp Set and the  Sun Shiny Slimline Paper Pack.  I also used the Rosie Sentiment Die. I started by printing Winking Wanda twice. I printed the first one, and the second one I mirrored the image and then printed it again.  I Copic colored both Winking Wanda's identically.   From here I die cut my decorative frame and window opening.  I attached Winking Wanda with some thread, and there you have it.  If you check out the IG post you can see Wanda...